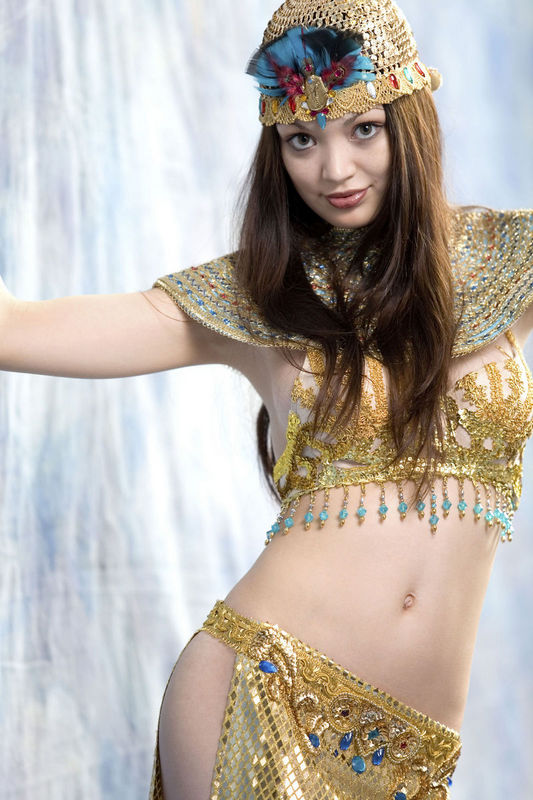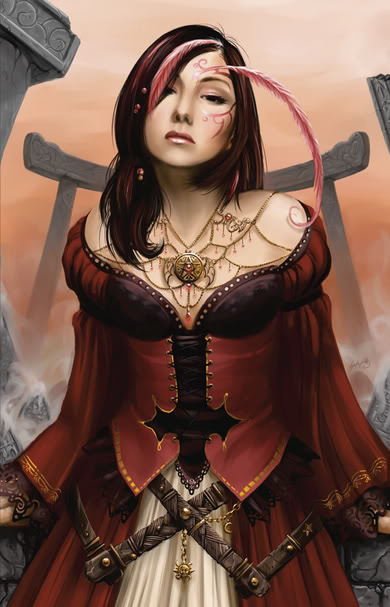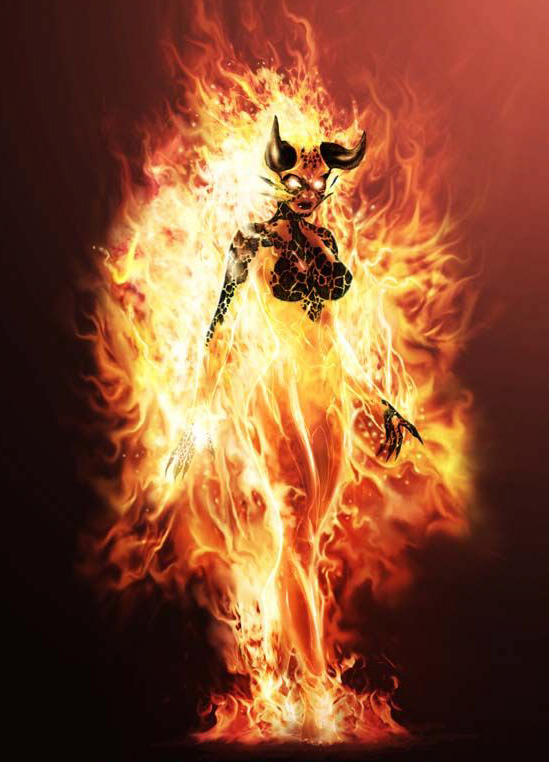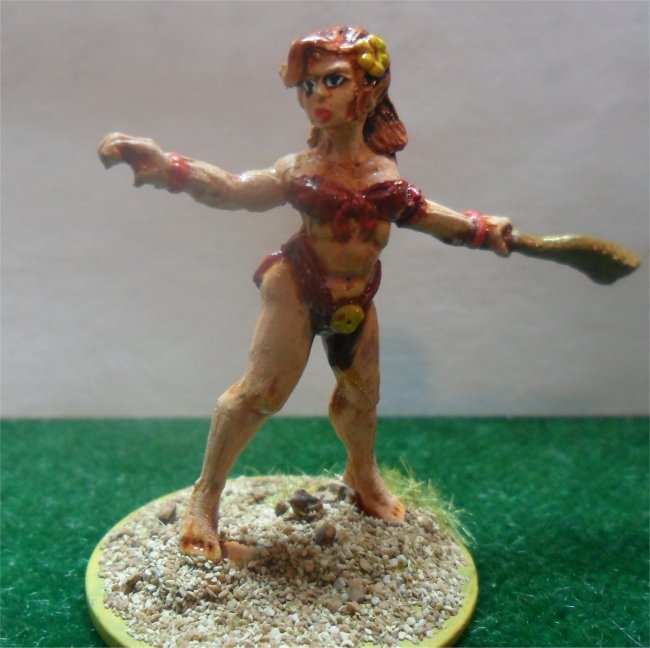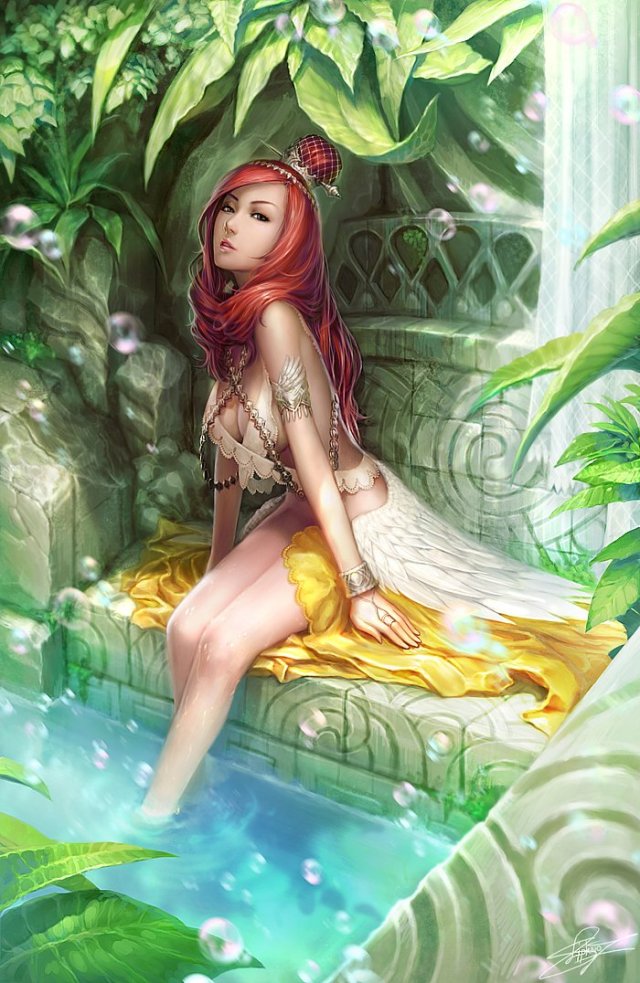 Female Half-Elf Sorceress (Fire Elemental Bloodline, Kelishite human origin) 18
CN Medium humanoid(elf, human)
PFS Number 8846-1
Homeland Khatheer, Qadira; Faction Qadira; Deity Sarenrae
Init +7 Senses Perception +6, low-light vision, keen senses (included)
Languages Common, Elven, Kelish

AC 13, touch 13, flat-footed 10
(+3 Dex)
hp 146 (18d8+54)
Fort +14, Ref +14, Will +17
Defensive Abilities Elven Immunities; Immune critical hits, fire, sneak attack

Speed 60ft
Melee Lesser rod of extend +7 (1d8+-2) or
Ranged Light Crossbow +12 (1d8 / 19-20)
Ranged Ray +12 (per spell or 1d6 + 9 fire damage 13/day / 19-20)
Base Atk +9 CMB +7 CMD 20
Sorcerer Spells Known (CL 19th; Base DC 20+spell level; concentration +29, +33 defensively)
9th (5/day) - time stop
8th (7/day) - discern location, maze, summon monster VIII (elementals only)B
7th (7/day) - delayed blast fireball, elemental body IVB, greater arcane sight, power word blind
6th (7/day) - disintegrate, elemental body IIIB, greater heroism, mass suggestion
5th (8/day) - break enchantment, elemental body IIB, feeblemind, teleport, wall of force
4th (8/day) - acid pit, black tentacles (CMB +23, CMD 33), charm monster, elemental body IB, phantasmal killer
3rd (8/day) - dispel magic, fly, haste, lightning bolt, protection from energyB
2nd (8/day) - blur, command undead, false life, invisibility, scorching rayB, web
1st (8/day) - burning handsB, comprehend languages, magic missile, protection from evil, ray of enfeeblement, unseen servant
0 - acid splash, detect magic, detect poison, disrupt undead, ghost sound, mage hand, open/close, prestidigitation, read magic

Abilities Str 7, Dex 16(+2), Con 16(+2), Int 14(+2), Wis 12, Cha 30+2,(+6)
Feats Bouncing Spell*, Combat Casting, Empower SpellB, Eschew MaterialsB, Improved Critical (ray), Improved InitiativeB, Point Blank Shot, Precise Shot, Spell Penetration, Piercing Spell*, Quicken Spell, Skill Focus (Use Magic Device), Toughness
Skills Appraise +6, Bluff +22, Diplomacy, +31, Fly +12*, Intimidate +17**, Knowledge (arcana) +18, Knowledge (local) +6, Knowledge (planes) +13, Perception +6, Profession (Merchant) +8, Spellcraft +18, Use Magic Device +28
*: using flyspell +13 due to caster level and maneuverability.
using elemental body I +8 maneuverability, +2 size. **: +3 vs. Kelish and Qadiran citizens (Pasha).

Bloodline Arcana Whenever you cast a spell that deals energy damage, you can change the type of damage to match the type of your bloodline. This also changes the spell's type to match the type of your bloodline.
Bloodline Powers Fire infuses your being, and you can draw upon its power in times of need.
Elemental Blast (Sp) 2/day, may cause 20'-radius burst w/in 60' that deals 22d6 fire dmg, Ref save (DC 29) for half dmg and those that fail gain vulnerability to fire until end of your next turn.
Elemental Ray (Sp) Target any foe within 30 feet as a ranged touch attack. This ray deals 1d6+10 points of fire damage. You can use this ability 13 times per day.

Ease of Faith Your mentor, the person who invested your faith in you from an early age, took steps to ensure that you understood that what powers your divine magic is no different than that which powers the magic of other religions. This philosophy makes it easier for you to interact with others who may not share your views. You gain a +1 bonus on Diplomacy checks, and Diplomacy is always a class skill for you.
Keleshite Princess (Qadiran Keleshite female) You have been raised to expect obedience from those around you, regardless of their station, and are not shy about demanding what you want. You gain a +1 trait bonus to Diplomacy and Intimidate checks, and one of these skills (your choice) is always a class skill for you. (Chose Intimidate)

belt of con+2, cloak of resistance +4, circlet of persuasion, crocodile tooth necklace (ring of sustenance), goblet of quenching, handy haversack, headband of allure +6, lesser rod of extend, luckstone, ring of counterspell, ring of spell turning, robe of arcane heritage
ioun stone of Dex+2, ioun stone of Int+2, orange prism ioun stone (+1 caster level)
Read Tome of leadership and influence +2
Page of spell knowledge: blur, blink, dismissal, passwall
Consummables
brooch of shielding O O O O O O O O O O O O O O O O O O O O
scroll of breath of life O O O
scroll of contingency O
scroll of darkvision O O
scroll of invisibility sphere O
scroll of mage's sanctum O
scroll of planar adaptation O O
scroll of tongues O O O O
wand of cure light wounds O O O O O O O O O O O O O O O O
wand of glitterdust O O O O O O O O O O O O O O O O O O O O O O O O O
O O O O O O O O O O O O O O O O O O O O O O O O